South India is a gem. With its beautiful nature, wonderful people and rich culture it makes the perfect destination for anyone. On a recent trip to Chikmagalur and Coorg in Karnataka I got a chance to fall in love all over again. This time with coffee. Karnataka is one of the biggest coffee producing states in India. Apart from coffee you will also find pepper trees, rubber, teak, cardamom etc. here. In Chikmagalur and Coorg the atmosphere is very pleasant due to its high altitude. The coffee is grown 1300 m. above sea level. Chikmagalur and Coorg have become quite popular destinations in India, but it is my sincere wish that this pearl soon will be noticed among others too. 
The bright colorful flowers were looking just amazing against the dark cloudy sky.
These woman had just completed their shift at the rice field and were happily posing in front of the camera.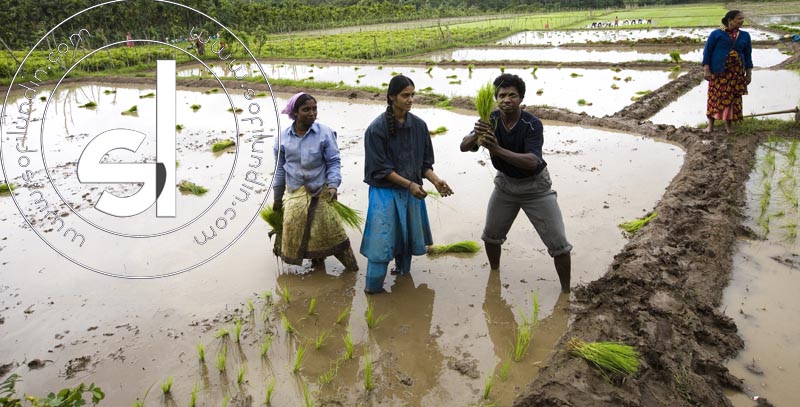 Walking across the field I met this man. Eager to be in the frame he just jumped into the deep mud and stole the show from the hardworking woman. Afterwards they made me help them to set the rice. Have you ever been to a mud-spa? I havn't. But I believe the feeling must be something similar to what I experienced. The mud had a silky feel to it and stepping inside the water you feel pleasantly cool. Wonderful. Except for one thing. It took me 3 hours to get rid of the mud which was stuck under my toenails.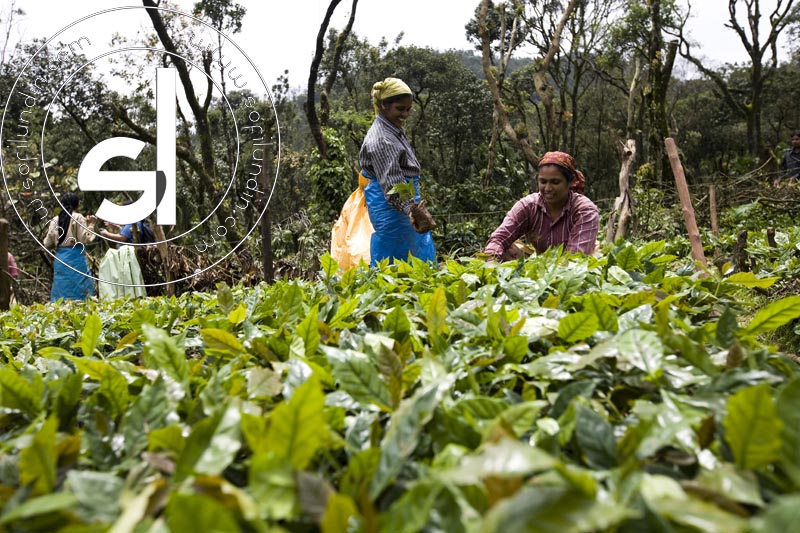 Reaching Chikmagalur I just couldn't wait to see how coffee is made. This is a coffee nursery, which is also called a kindergarden. After the seeds have been planted in the soil they are taken care of in this nursery. After 4-5 months they are old enough to be taken to the estates.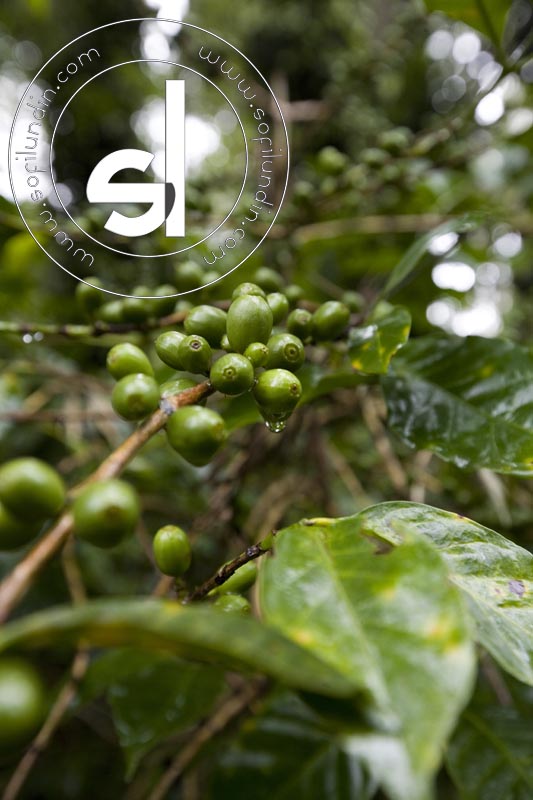 There is still a few months left before the berries are ripe. At the time of harvesting they have a beautiful red color. 
After harvesting the raw beans are processed and roasted. It is during the roasting process that the beans turn brown. Before that they are green in color. 
Coffee workers. During the monsoon the work can get extremely tough for the workers. Sometimes the rain refuses to stop for weeks. But rain can also be very pleasant after months of dry heat.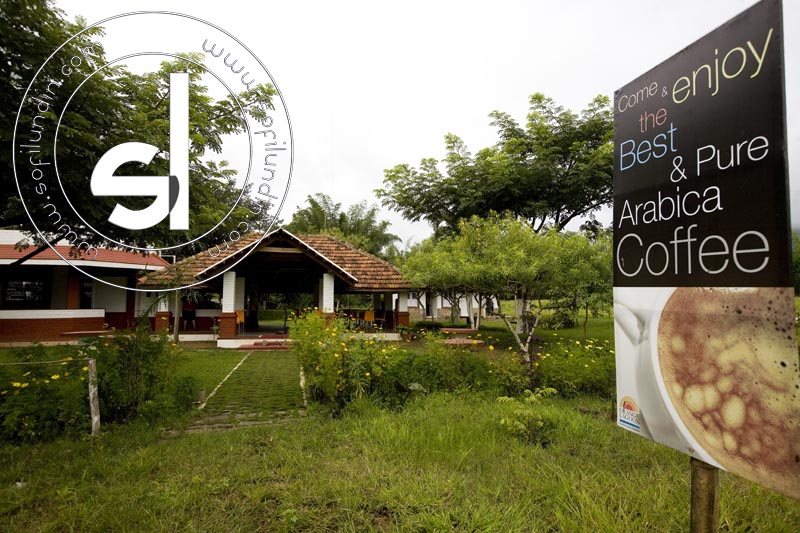 Along the highway you can stop at one of the joints and enjoy  a cup of nice strong filter coffee. South Indians are experts on filter coffee and nothing else should be tried here. Espresso and double macchiato have not yet reached the hill station.
Underneath a tree someone had built a temple. It was almost impossible to notice for a newcomer since its colors blended in really well with the environment. 
20 minutes drive from the high way we found this wonderful thai inspired resort right in between the coffee estates. This picture is taking from the pool facing restaurant. 
And here we go. This is the pool. Isn't it lovely!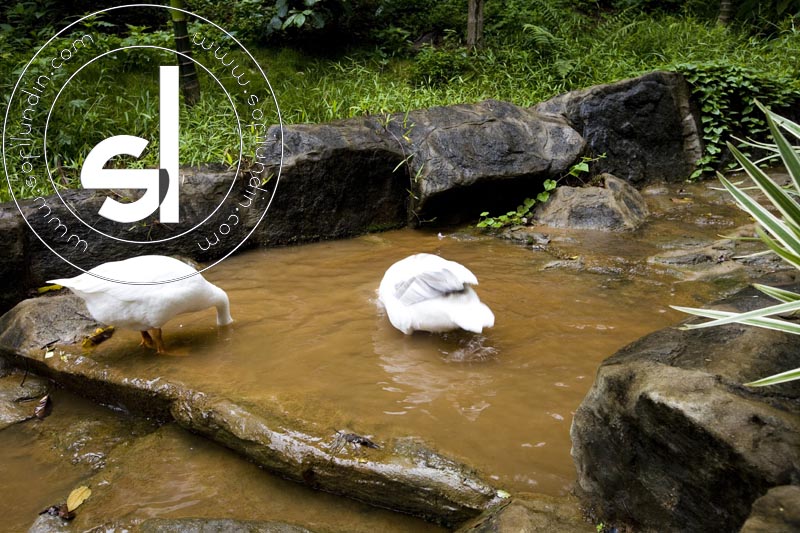 From the garden of the resort. Cowards I would call them!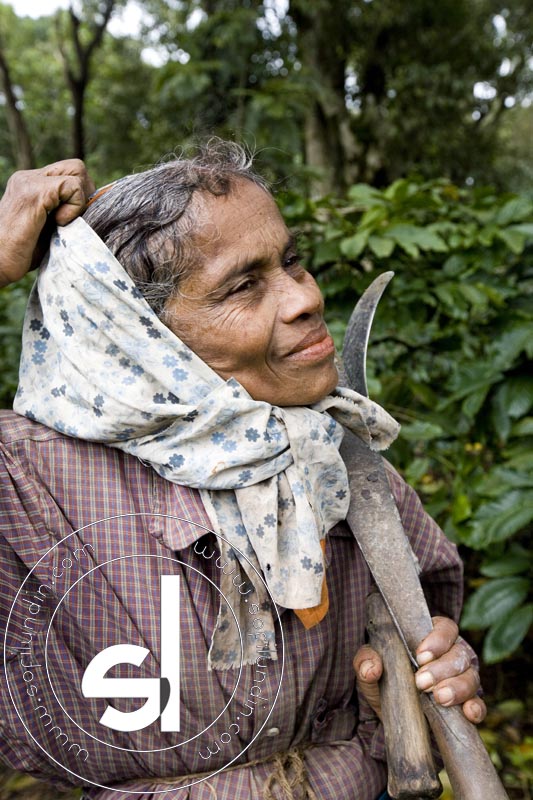 I met so many wonderful people on my journey. One of them is this lady. She is a coffee worker and her welcoming attitude I will never forget. 
This dude was also pretty cool!
Hungry as I often get (too often) we had to stop at this local little shop. My eyes caught something hanging above the door. The shopkeeper told me that it's the symbol of Coorg. 
Just next to the road, not far from the shop I saw this beautiful site. 
We passed a river which was almost deserted from people. I guess it was siesta time!
Another beautiful resort…
with gorgeous rooms.
Riverside
This is the image I have in my mind when I think about my trip to Karnataka. Beautiful nature, cloudy skies and sweet, friendly people.