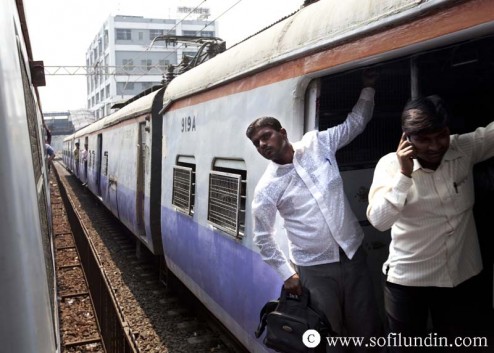 More than 6.9 million people travel by train in Mumbai daily and the city has the highest passenger density of any urban railway system in the world. Traveling by train is by far the best way of commuting in Mumbai. If you can afford to avoid traveling during rush hours, the journey will be very pleasant and could also be quite entertaining.
A few days ago I was catching the train from Bandra to Churchgate. I noticed to my surprise that the train was nearly empty from passengers and I took the opportunity to get some snaps from inside the train. While clicking away a lady approached me. Harini Prakhas, a food photographer from Mumbai was curious to know how I managed to take photos of people with so much ease. We started chatting and she is now part of my network. So many unexpected things can happen on (and around) the local trains. Not only do you get new friends, you also get to observe the daily life in Mumbai. The railway is the beating heart of Mumbai.
These pictures are taken during 1 hour, between Bandra (south western suburb) and Churchgate in south. At Churchgate station I got ten minutes with the  famous dabbawallas, before they had to rush to next destination. Dabbawalla can be translated "box carrier" and their job is to carry and deliver freshly made food from home to office workers. 4000-5000  men provide around 200.000 office workers with food every day. They know the local areas by heart and complete their work even in the months of the monsoon. Yearly more than 65 million dabbas are delivered, almost without failure. This is a 125 year old tradition which has become a highly integrated part of Mumbai culture. Though this seem like an easy task, Mumbai culture would be incomplete without them.
The BBC has produced a documentary about dabbawallas and prince Charles was pleased to meet the them on his visit to the country. They were also invited to give lectures in top business schools around India.